Walmart in Early Talks to Purchase Humana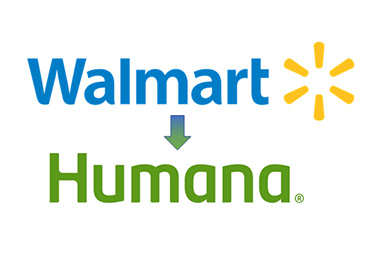 According the the Wall Street Journal, the giant discount retailer Walmart Inc. is in the preliminary talks to buy and partner with the healthcare giant, Humana. Recently, there has been a string of large transactions in the healthcare industry, including CVS Health agreeing to purchase Aetna, as well as Cigna's purchase of Express Scripts Holding Co.
However, there is no guarantee this deal will be finalized at this time. Walmart's purchase of Humana might be a stab at it's main competitor, Amazon. Amazon is reportedly trying to break into the healthcare market by selling prescription drugs. Anytime there is talk of Amazon breaking into any new industry, industry giants need to stay on their toes. The deal would affect mostly seniors and those living on lower incomes – essentially, Medicare and Medicaid populations. As more baby boomers age into Medicare and more states expand their Medicaid programs, this population continues to grow. Walmart already has a sizable pharmacy presence, and the addition of Humana's pharmacy-benefits management (PBM) would increase this value proposition. This addition could help keep drug costs down.
Why Humana?
There already exists a positive relationship between these two household names. Out of all the healthcare insurers, Humana is the second-largest and has a significant amount of brand recognition. Furthermore, Humana and Walmart have a co-branded drug plan that actually drives customers to the Walmart pharmacy to get their drugs. In other retailers, research found that pharmacy customers spent more on non-drug related purchases. This could also be true for Walmart. Walmart would like to expand their in-store clinics, and driving customers to use them would help this initiative. Also, Walmart could save on costs by managing the health benefits of its gigantic employee base in-house.
How Has This Affected the Company's Market Shares?
Humana's shares increased by about 11%, while Walmart shares took around a 1% dip. Humana's market value is more than $37 billion, while Walmart's value reaches $263 billion. Acquiring the healthcare giant as an asset would help Walmart diversify its business. Currently, Walmart has pharmacies in the majority of its 4,700 stores and Sam Club brands. At one point, Aetna and Humana proposed a merger that was blocked by the government on anti-trust grounds. However, this merger would be considered a vertical merger. Vertical mergers do not lower the amount of competitors in the market. For this reason, analysts don't foresee a legal issue with the merger.
---
Get affordable health insurance quotes by clicking here.
Or call us directly at 1-888-446-9157
Since insurance is oftentimes overwhelmingly confusing, we want to shed light on this industry by answering YOUR questions.  So if you have any questions or concerns, comment below and your question may be the topic of our next post!