A Medigap policy is an insurance policy that helps fill "gaps" in Original Medicare and is sold by private companies. Original Medicare pays for 80%, but not all, of the cost for covered health care services and supplies. Medigap policies are sold by private insurance companies, and can help pay for some of the costs that Original Medicare doesn't, like copayments, coinsurance, and deductibles.
Some Medigap policies also cover certain benefits Original Medicare does not cover such as emergency foreign travel expenses.
Medigap policies do not cover your share of the costs under other types of health coverage, including Medicare Advantage Plans, stand-alone Medicare drug plans, employer/union group health coverage, Medicaid, or TRICARE.
If you have Original Medicare and a Medigap policy, Medicare will pay its share of the Medicare-approved amounts for covered health care costs. Then, your Medigap policy pays its share. Medicare does not pay any of the costs of buying a Medigap policy.
A Medigap policy is different from a Medicare Advantage Plan. A Medicare Advantage plans are another way to get your Part A and Part B benefits. A Medigap policy only helps pay for the costs that Original Medicare doesn't cover. Insurance companies generally can not sell you a Medigap policy if you have coverage through a Medicare Advantage Plan or Medicaid.
All Medigap policies must follow federal and state laws designed to protect you, and policies must be clearly identified as "Medicare Supplement Insurance." Medigap policies are standardized, and in most states, plans A- N are named by the letters. Each standardized Medigap policy under the same plan letter must offer the same basic benefits, no matter which insurance company sells it.
We can help you enroll and learn everything you need to know about Medigap.Get a Quote Today!
This chart shows basic information about the different benefits that Medigap plans cover.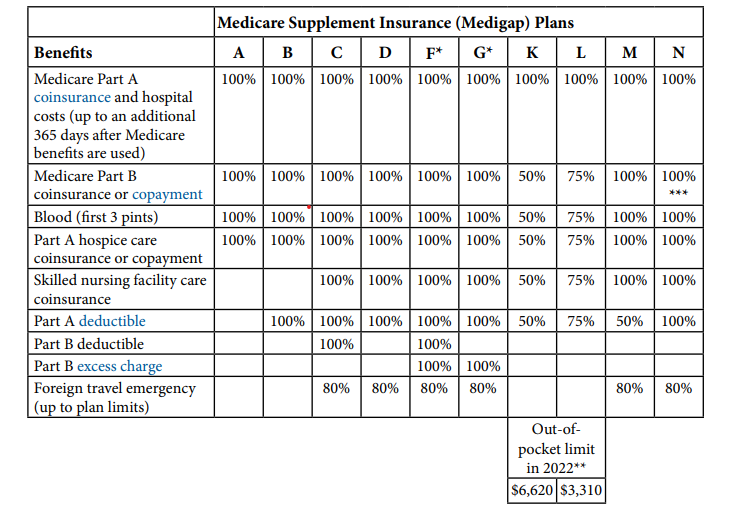 * Plans F and G also offer a high-deductible plan in some states (Plan F isn't available to people new to Medicare on or after January 1, 2020.) If you get the high-deductible option, you must pay for Medicarecovered costs (coinsurance, copayments, and deductibles) up to the deductible amount of $2,490 in 2022 before your policy pays anything, and you must also pay a separate deductible ($250 per year) for foreign travel emergency services.
**Plans K and L show how much they'll pay for approved services before you meet your out-of-pocket yearly limit and your Part B deductible ($233 in 2022). After you meet these amounts, the plan will pay 100% of your costs for approved services for the rest of the calendar year.
*** Plan N pays 100% of the Part B coinsurance, except for a copayment of up to $20 for some office visits and up to a $50 copayment for emergency room visits that don't result in an inpatient admission.