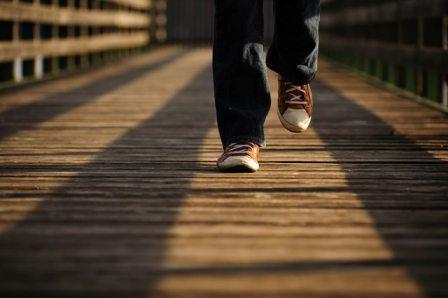 88-year-old Mattapoisett, Massachusetts resident Brad Hathaway finished walking the equivalent of the circumference of the Earth on October 3, after his doctor suggested he take up walking 32 years ago. Along with experiencing the physical benefits of walking, Hathaway has also been able to use his 24,901-mile total to raise funds for the Mattapoisett Land Trust, an organization he helped found in the 1970s.
Walking Around the World
In 1988, Hathaway visited his primary care physician and learned that he was at risk for diabetes and heart disease. When Hathaway's doctor advised that he take up walking three miles per day, Hathaway started logging his miles. Over the last three decades, Hathaway has logged nearly 25,000 miles from walking around Aucoot Cove in his hometown.
For the first few years, Hathaway walked more than three miles per day with just his walking cane. Over the years, he says, walking has slowly become more difficult, so now he walks with the help of a walker. Throughout his travels, Hathaway sometimes picks up trash or finds treasures along the route. Overall, he's made almost $7,000 from items laying on or near his trails.
Hathaway began his 24,901st mile on October 3 at 10 a.m. EDT, surrounded by friends, family, and Mattapoisett Land Trust supporters who made sure to maintain proper social distancing efforts while cheering Hathaway on. While many cheered from the roadside, others walked alongside Hathaway in solidarity.
Mattapoisett Land Trust
The Mattapoisett Land Trust (MLT) was founded by Hathaway and 10 other Mattapoisett citizens in 1974. The group had grown concerned about humanity's effect on the environment and formed the non-profit to acquire and preserve wildlife areas in the Mattapoisett area, educate public citizens about using natural resources responsibly, and working with other similarly oriented organizations. The organization is currently in possession of over 650 total acres. MLT operates solely through volunteer efforts and donations.
Since August of 2020, Hathaway has used his walk to fundraise for the MLT, and the organization hosted the celebration of his final mile on October 3. All funds raised through the "A Walk Around the World for Mattapoisett Land" GoFundMe fundraiser will be donated to the MLT for the acquisition and upkeep of natural lands.
The Benefits of Walking
Walking is a great habit for people of all ages, but it especially is a great low-impact exercise for seniors. According to Howard LeWine, M.S. of Harvard Health Publishing, "Walking without assistance is probably the one that most determines if a person can live independently. Older people who are physically more active and who exercise regularly are more likely to walk independently and do other activities of daily living on their own compared to sedentary elders."
Whether you walk a few miles or around the world, walking can benefit both you and your environment. Congratulations, Mr. Hathaway, on your trip around the globe!
Got Medicare Questions?
We hope this information on Brad Hathaway's walk around the world for the Mattapoisett Land Trust inspires you to get moving!
If you have questions about your Medicare coverage, call Empower Brokerage today. Let us help with your Medicare questions so you can get back to the activities you enjoy the most. (888) 446-9157 or click here to get an INSTANT QUOTE
See our other websites: