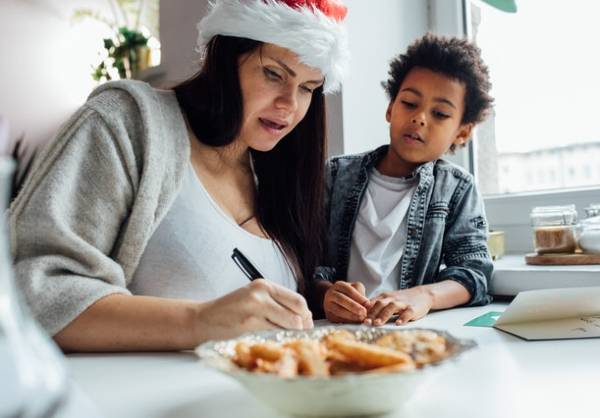 Writing a letter to Santa is a big deal to many kids around the globe, and with Christmas and other holidays looking a little different this year, this seemingly simple tradition has taken new life through the challenges of the pandemic. Between some ingenuity and creativity, and some longstanding traditions like the USPS's 108-year-old Operation Santa program, letters to – and from – Santa can still create some Christmas magic.
Alternative Delivery Date Letters from Santa
In 2018, Texas mom Stephanie Davi shared an "Alternative Delivery Date" letter from Santa to her Facebook page for any of her military or first responder friends who would be unable to be home Christmas morning. The letter went viral, and in 2020, Davi updated the letter and made some additional formats for children whose parents are health care professionals, airline employees, or who have other jobs that keep them from being home this Christmas morning.
The letters outline that Santa has sent a bunch of letters to special kids like the recipient(s) who have parents who work very special jobs. Santa explains that he is going to make a special trip around the world and deliver presents on an alternate date so that these special families can experience Christmas morning together on a day near December 25. The letters are a great way to allow families flexibility with their work schedules while keeping the Christmas magic alive.
To access google drive documents of each letter, visit Fox New's story covering Davi's letters.
USPS's Operation Santa Program
Each year, hundreds of thousands send letters to Santa via the United States Postal Service's Operation Santa program. 2020 is no different, as the organization accepted letters through December 15. The letters this year, however, had a different tone than that of years past. Though the organization reported that many letters still contained requests for toys or games, many asked for basic necessities, help for their families, or even a cure for COVID-19.
In one note, a young child asked Santa for a few toys before writing, "This has been a very tough year. I lost my daddy and my grandpa, and my mommy is having a rough time. Maybe you can send her some happiness." Another wrote, "Dear Santa, I don't want anything for Christmas, but I would like to ask you for a favor. Can you please find a cure for COVID-19 and give it to us to save the world?"
What started in 1912 as a way for people to take care of their neighbors has turned into so much more. Now, after going through a brief identification process to ensure participants' safety, anyone can adopt one or more letters and write back as Santa or purchase and send gifts to the letter's author. As of December 10th, 27,000 adopters had registered with the USPS and over 17,000 letters had been adopted. With so much chaos in the world this year, Operation Santa will provide many children a happy Christmas where they may not have had one otherwise.
Got Medicare Questions?
We hope this information on how writing a letter to Santa and keeping the holiday magic alive is helpful to you.
If you have questions about your Medicare coverage, call Empower Brokerage today. Let us help with your Medicare questions so you can get back to the activities you enjoy the most. (888) 446-9157 or click here to get an INSTANT QUOTE
See our other websites: