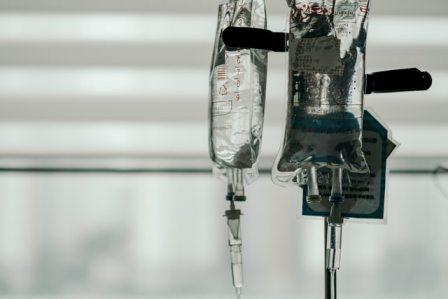 On August 23, President Trump made the announcement that the Food and Drug Administration (FDA) officially authorized convalescent plasma therapy as a treatment for victims of COVID-19. The convalescent plasma treatment was already available across the country, yet the FDA's authorization will make the therapy more accessible to patients nationwide.
Convalescent Plasma Therapy
With no cure for coronavirus, the FDA approved the treatment as an emergency measure in an attempt to save the lives of those hospitalized due to the virus. FDA Commissioner Stephen Hahn explained during the briefing that "Scientists have concluded that COVID-19 convalescent plasma is safe and shows promising efficacy, thereby meeting the criteria for an emergency use authorization."
Convalescent plasma therapy consists of extracting red blood cells from blood donations of COVID-19 survivors. The gold-colored liquid that's left contains plasma and antibodies that could help those hospitalized with COVID to better fight the novel disease.
After being separated, the plasma is frozen until use. Doctors closely monitored patients undergoing convalescent plasma therapy both during and after the procedure to ensure that no side effects appear, and the entire procedure takes around two hours to complete. The plasma is administered through an intravenous, or IV, tube. The fluid drips from the sterile sack it is stored in down the tube and into the patient's bloodstream.
Existing Programs
Some researchers worry that the treatment was too difficult to accurately analyze in randomized case studies since it was already accessible to the public without being a part of an official study. Studies like the Michigan-based Clinical Trial of COVID-19 Convalescent Plasma of Outpatients lightheartedly referred to as C3PO, however, have provided valuable data that may have led the FDA to this decision.
C3PO is a randomized controlled trial where half the enrolled patients receive plasma and half receive a saline solution. The study proved that the COVID-19 plasma treatment helps patients, at least to some extent. As of September 1, the Biomedical Advanced Research and Development Authority's (BARDA) US COVID Plasma effort has treated 87,000 patients nationwide in 2,700 hospitals.
COVID-19 Treatment
As of late August, the COVID-19 convalescent plasma treatment showed a 35 percent improvement in the survival rate of treated patients. Thousands of patients have received antibodies via plasma treatment throughout the coronavirus pandemic. No data suggest that plasma treatments are an effective COVID-19 treatment, but small clinical trials and data from a national access program suggest that the procedure may help lessen the symptoms or shorten the duration of COVID-19 cases.
Got Medicare Questions?
We hope this information on convalescent plasma treatment is helpful to you.
If you have questions about your Medicare coverage, call Empower Brokerage today. Let us help with your Medicare questions so you can get back to the activities you enjoy the most. (888) 446-9157 or click here to get an INSTANT QUOTE
See our other websites: