It is the document we have all been waiting for and the best easy to follow guide to Medicare. Medicare and You 2018, the official U.S. government Medicare Handbook, is out now for free download. This will include information about the new Medicare cards that CMS will be issuing in 2018. Here are some of the highlights of why CMS is changing your Medicare card.
New Medicare Cards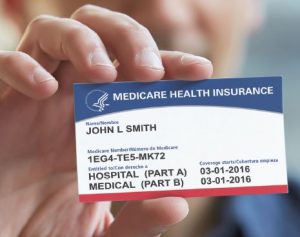 One huge change in Medicare for 2018 is the new Medicare cards that are being sent out to 60 million people throughout the United States. On the current cards, the social security number of the Medicare recipient is the Medicare claim number. However, many are concerned about putting sensitive information on the card, as it could lead to fraud and identity theft. If someone got a hold of a Medicare card, they could illegally use the benefits to receive Medical attention.
The new Medicare card will have a new claim number. Instead of your social security number, it will be a random string of capital letters and numbers. This new card with the new Medicare Beneficiary Identifier (MBI) will be sent out to all 60 million Americans starting in April 2018. The plan is for all cards to be replaced by April 2019.
Preparing Providers
CMS promises to do all they can to help providers prepare for this momentous change. They want to make this transition as easy as possible for doctors, patients, and doctor staff. They are collecting feedback from providers to create a secure look-up tool at the point of service. This will make processing claims convenient for medical practices, hospitals, and medical staff.
How You Prepare
The number one thing you need to do is make sure that your address is up to date. CMS will be sending the Medicare cards to whichever address you have on file. If you have changed your address, you must update it as soon as possible. This is done through your online Social Security Account or by calling 1-800-772-1213; this helpline is available Monday through Friday 7am – 7pm. This website will give you some direction on how to change your address or replace a lost card.
Make sure you are looking through your mail thoroughly starting April 2018. Most of us get a lot of spam mail making important mail easily overlooked. Download the Medicare & You 2018 Handbook to review all the updates for 2018.
Get the best health coverage at a good price. Get an instant FREE quote for Medicare Supplements!

*The picture used in the thumbnail in this article and the picture embedded in this article are from this website: https://www.medicare.gov/pubs/pdf/10050-Medicare-and-You.pdf