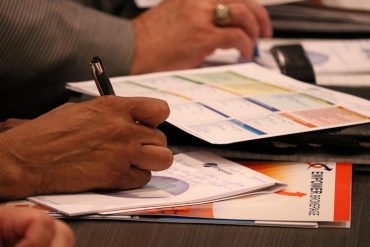 On April 15th & 16th, Empower Brokerage flew in the top producing agents around the country to participate in our annual Senior Summit 2019.
Kicking Off The Morning Right
Monday morning started off by busing in the agents to Empower's Southlake office. Refreshments were served while agents were able to catch up & meet all those participating in the seminar. After becoming acquainted, John Shinn, Empower's Senior Specialist & host of the summit was ready to begin. After introductions of the staff and agenda breakdown, John passed the seminar off to our first presenter Chris Jarvis.
Jarvis is a bestselling author, keynote speaker, and growth consultant. He guides business owners, agencies, salespeople, and corporations to find creative solutions and overlooked paths. Jarvis informed our agents of key ways to improve their business. He also informed them about staying confident and to always be "thinking bigger".
Following Jarvis' opening was Empower Brokerages CEO, Rodney Culp. Mr.Culp went over some of the upcoming goals and initiatives Empower Brokerage plans to offer for the upcoming year. Without giving too much detail, Empower is expanding in many ways. We are excited to offer new lead systems to our agents for the upcoming season.
After covering our new season initiatives, John Shinn returned to the stage to present a special tool created by himself. This tool specifically focuses on the senior products side. It not only provides plan info on Senior products available to agents, but also presents contracting information, quoters, and E-apps in one location. Marketing Director Bill Bronson went on after John to give a brief update of our marketing opportunities available for agents. He discussed how to take advantage of the marketing team to help produce more business and utilizing our marketing materials.
Lunch & Carriers
Following the presentation, agents were able to re-cooperate while eating food from the local Chuy's Tex Mex Buffet. With some down time to stretch their feet agents were entering the final stretch of the first day of the summit.
Starting off our afternoon was a presentation from Health carrier, Aetna, who currently has over 22.1 million medical members worldwide. After a breakdown of their products and a Q&A, Health carrier Humana followed. Being one of the most well-known health carriers in the market the agents were not new to the product. Humana was able to present some of the best plans they have to offer in the Texas regions. Lastly, to end our carrier presentations, we Short term medical plan Pivot Health came in to discuss their new "Bridge to Medicare" plan.
A Night to Remember
After the presentations were done for day one, the agents gathered back onto the bus and headed back to the hotel. The day wasn't over yet, because Empower Brokerage had a special treat for the agents who had attended with tickets to the Texas Rangers game. Agents were able to continue meeting and bonding over their love for insurance and even were able to see the Rangers mop the floor with the Angels in a win of 12-7. With day one officially over.