Medicare Costs Rise in 2017
Medicare Costs are rising in 2017! Prepare yourself for these upcoming changes!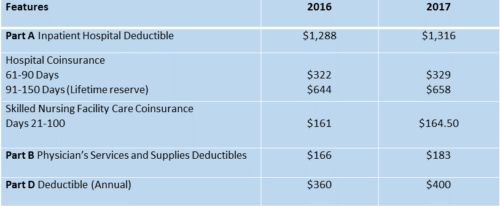 There are changes made to Medicare each year. Changes in coverage as well as cost can greatly affect you.
It is important to stay aware of changes. Keep in mind your medical needs as well as your financial ability.
Part A
A Part A deductible covers the cost of hospital care, nursing facility care, nursing home care, hospice, and home health services. The deductible in 2017 will be $1,316.00, which is an increase of $28.00 from 2016. Days in hospital cost has also increased for the upcoming year. 61-90 days in the hospital went up only $7, $322 to $329. The 91st day to 150th shows an increas of $14, from $644 in 2016 to $658 in 2017. Skilled nursing facility care coinsurance for days 21-100 has increased slighyly from $161 to $164.50.
Part B
A Part B deductible covers doctor services and supplies. Covered services include lab tests, surgeries, and doctor visits. Supplies covered under Part B include medically necessary items like wheelchairs and walkers, to treat medical conditions. In 2017 the deductible will be $183.00, which is up $17 from 2016.
Part D
A Part D deductible covers the cost of prescription drugs. The annual deductible for a Part D in 2017 will be $400.00, which is a $40.00 increase from 2016.
If these expenses are too much, you may be eligible for extra help or Medicare savings program. Visit Medicare.gov to learn more about Medicare and how to save on costs.
These Medicare cost increases can add up. Review your coverage and contact an independent Empower Brokerage agent today to discuss your options.